Film Festival on Mahatma Gandhi inaugurated at MANUU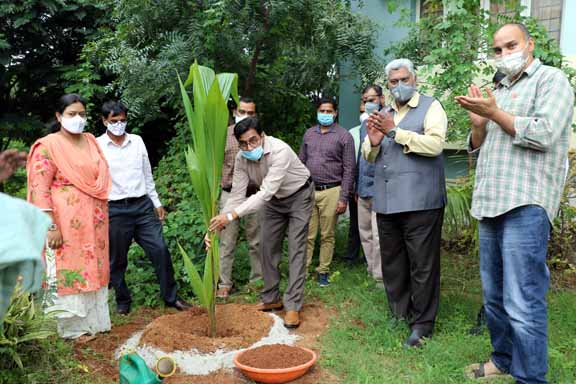 Hyderabad: Maulana Azad National Urdu University (MANUU) is celebrating Mahatma Gandhi's 150th Birth anniversary ahead of Mahatma Gandhi's birthday on 2nd October, 2020. Instructional Media Centre (IMC), MANUU under the banner of Cinematheque MANUU in association with Film Division and NFDC is presenting film festival dedicated to Mahatma Gandhi.

To commemorate the event, IMC will be screening 18 different films dedicated to Mahatma Gandhi during festival from September 23 to October 1 in IMC Preview Theatre.

Prof S M Rahmatullah, Vice Chancellor I/c, MANUU today inaugurated week long programmes including a film festival. In the inaugural session of the film festival Prof. Rahmatullah congratulated the gathering for celebrating 150th birth anniversary of Mahatma Gandhi. He said, the personality of Mahatma Gandhi and his teachings are such that he will live forever and will continue to be a beacon for all. If we consider different aspects of his personality, understand and try to follow his teachings, then not only our Country but the whole world will emerge in a different way, he elaborate. Being 'Mahatma" and Father of Nation" is not an easy earned name. Gandhi ji had spent his whole life with love for the country and its countrymen, we respect and remember him as Mahatma or Father of Nation, he said. Gandhi Jayanti is also important as this opportunity is a moment of concern for everyone to look at Mahatma's personality, follow his path in our own lives and try to make not only our lives but our Country successful, he remarked.

Describing Mahatma Gandhi's life in the inaugural session Prof. Siddiqui Mohd Mahmood, Registrar I/c said that 2nd October, is very important day not only in Indian history but for the whole world. As United Nation General Assembly on June 15, 2015 has declared 2nd October as an international day of Non-Violence in the memory of Mahatma Gandhi. Gandhi ji's non-violence and humanitarian philosophy needed to be adopted to spread love and humanity in the whole world, he added.

Prof. Rahmatullah and Prof Siddiqi Mohd Mahmood also planted saplings in front lawn of IMC building.

Md Aamir Badr, Producer IMC, conducted the programme and Dr Hashmath Ali proposed vote of thanks. Mr. Rizwan Ahmad, Director IMC was also present and supervised the arrangements.

Staff members and officials participated in the programme with all precautionary measures in view of COVID-19. The programme was telecast live on imc youtube channel.

Four different programmes on Mahatma Gandhi produced by IMC will also premiered on imc manuu youtube channel (https://www.youtube.com/channel/UC8bmtIx3qQyHTnafF0uoUBA) during this week. A panel discussion on "Relevance of Gandhi ji in Modern Times" will be organized online on 01/10/2020. Prof. Siddiqui Mohammad Mahmood, Registrar i/c will moderate this discussion & Prof. Afroz Alam and Dr Anand Raj Verma will be panelist in the discussion.