Three UAE students bag coveted Princess Diana Award for outstanding social initiative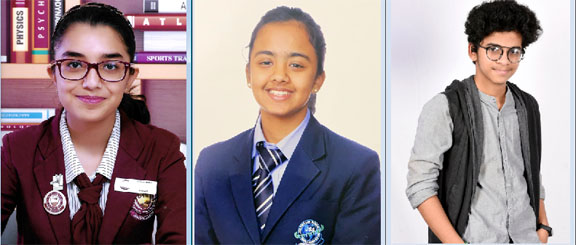 DUBAI – July 2, 2020: Three UAE students from schools of Dubai and Abu Dhabi have been conferred with prestigious Princess Diana Award for taking up exceptional social leadership roles with Tajneed UAE initiative in their respective schools.

The students -- 14-year-old Amith Mazin; 16-year-old Sanvi Rathod and Rania Ali Khan (aged 13) have been recognized with The Diana Award, dubbed the highest accolade that young persons can achieve for social action in humanitarian efforts. The three school students participated in the voluntary, weekly self-development training program for staff members of school bus.

Established in memory of Diana, Princess of Wales, the Award is given out by the charity of the same name and has the support of both her sons, The Duke of Cambridge and The Duke of Sussex.

Amith Mazin and Sanvi Rathod are students of JSS Private School in Dubai, while Rania Ali Khan is a student of Dunes International school in Abu Dhabi. The young heroes have been recognized for their outstanding participation in Tajneed UAE, an initiative to strengthen students tie to the community and broaden their support network, exposing them to people.

The 'Tajneed - the capsule learning moves' was conceptualized and introduced by Students Factory, the largest and longest running UAE based digital educational platform, aimed to focus on the empowerment and wellness of drivers, conductors and associates of school bus.

Commenting on the award, Mr. Shabeel Ummer, Founder & CEO of Students Factory, said, "We are glad to know that the three heroes of our initiative are bringing the international award to the UAE by demonstrating strong social leadership in their respective school communities. The initiative supports expatriate workers of different nationalities as many of them are illiterate and finding life and their jobs stressful. Currently the initiative is running successfully at 10 schools across the UAE."

"We started 'Tajneed' to provide self-developmental, behavioral, communicative and leadership training program for the under privileged class of schools hailing from India, Pakistan, Philippines, Srilanka, Bangladesh, Myanmar, Nepal, Kenya, Nigeria and Ethiopia once every week through selected student ambassadors and volunteers in their respective schools," he added.

Ms Tessy Ojo, CEO of The Diana Award, said, "We congratulate all our new Diana Award recipients who are changemakers for their generation. We know by receiving this honor they will inspire more young people to get involved in their communities and begin their own journey as active citizens. For over twenty years The Diana Award has valued and invested in young people encouraging them to continue to make positive change in their communities and lives of others."

The entry of Amith to the Diana Award has been evaluated as embodying the qualities of understanding the true value of community. As part of the Tajneed initiative, Amith designed, developed and delivered self-development and wellness programs to bus drivers and nannies in his school with the aim of closely integrating the school community, irrespective of background and academic status. His work has resulted in an inclusive and happy environment creating a sense of belongingness.

Sanvi Rathod was recognized for volunteering to design and deliver a self-development and wellness program in the school in line with the Tajneed program by training 60 bus drivers and 60 nannies each week. she continues to help others in her community.

Rania Ali Khan has been recognized for her commitment to make the world a better place through with her voluntary involvement in the social activity initiative Tajneed UAE. Rania organised educational and recreational activities, promoting happiness and healthy living among the bus conductors and drivers, who provide vital school transport. She also encouraged the student passengers to have a positive attitude towards them.

Tajneed has been recognized with numerous awards including the coveted 'Shaikh Hamdan Award' for transforming the lives of the neglected in 2017. The success of the program was later recognized by International Education Icon Award for Women Empowerment from India in 2019.

The Diana Award develops and inspires positive change in the lives of young people through three key programs which include; a mentoring program for young people at risk, a youth-led anti-bullying ambassadors campaign and a prestigious award which publicly recognizes young people – The Diana Award.