Nesto Group distributes 1,000 Iftar meals daily in cooperation with AJCCSR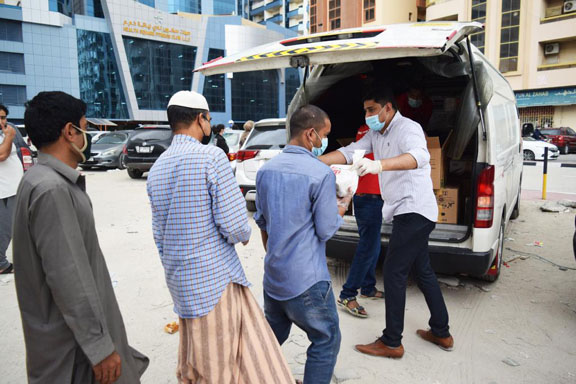 AJMAN, Ajman Chamber, April 30: In cooperation with the Ajman Centre for Corporate Social Responsibility (AJCCSR), which is an initiative of the Ajman Chamber of Commerce and Industry, the Nesto Group continues to distribute Iftar meals in various areas in the Emirate of Ajman. The move is part of the Iftar project launched by the Group and run by a voluntary team of its workers.

Nasser Al Dhafari, CEO of AJCCSR, valued the effective cooperation of the private sector's institutions operating under the repercussions and challenges of the coronavirus pandemic.

"The private institutions' positive stances in these circumstances reflect their sense of responsibility towards the society and confirm the cohesion and unity of the UAE community," Al Dhafri said.

He commended the Nesto Group's charity initiative and its keenness to establish a voluntary team of its employees working on initiatives dedicated to individuals and needy families. Through the initiative, the Group provides daily meals and Ramadan "Meer" while adhering to the precautionary measures to ensure safety standards and to preserve health of members of society, he added.

Al Dhafri continued, "The AJCCSR's mission is based on reinforcing the cooperation and communication with the Ajman Chamber's members, and stimulating them to implement projects and initiatives serving the society by raising their awareness of the CSR and its practices."

For her part, Afnan Tawfiq - PRO at the Procurement Department of the Nesto Group, said that the Group carries out charity projects annually during the holy month of Ramadan. She added, "This year, the Group has intensified its charity campaigns due to the current challenges within its belief in the national and humanitarian duty. It distributes over 1,000 Iftar meals a day throughout the holy month of Ramadan. In addition, it distributed 5,000 Ramadan baskets to the needy families within the Ramadan Meer project, to be followed by other 10,000 baskets to reach 15,000 baskets in total during Ramadan." Ends.