108 Hours Continuous Longest Virtual World Record Event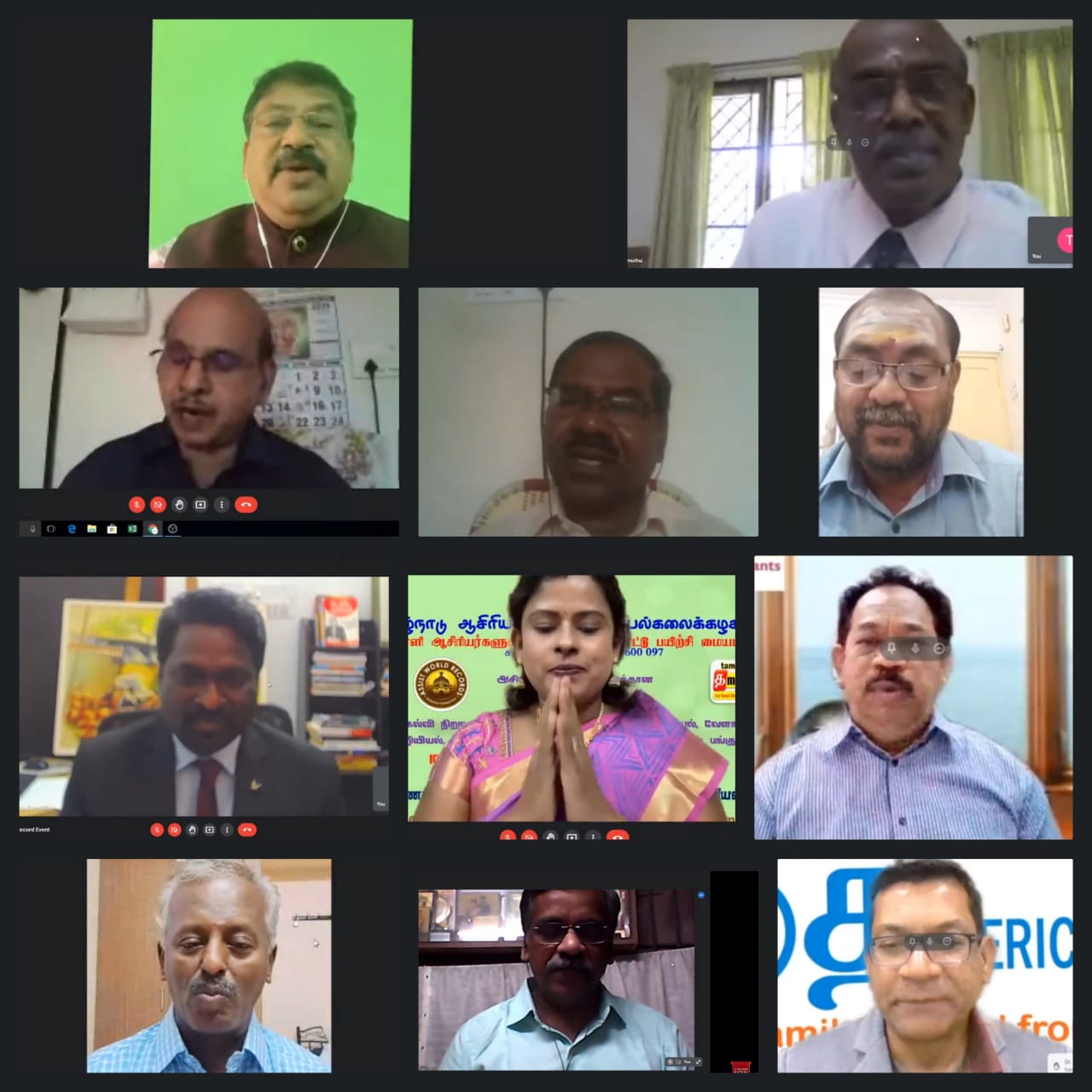 The TAMIL NADU TEACHERS EDUCATION UNIVERSITY, and The CENTER FOR CAPACITY BUILDING PROGRAMMES FOR SCHOOL TEACHERS, Chennai organized a world Record event titled "The Significance of Science and Culture in Building Harmonious Society" on 01.082021 by incorporating 108 sub titles with 108 Educational Institutions of Arts, Science and Education for 120 continuous progressive hours to create a world record event by signifying the importance of Science and Culture.

This mega event was organized by Dr. T. Sivasakthi Rajammal, Assistant Professor, Department of Educational Psychology and coordinator, Centre for Capacity Building Programmes for School teachers, Tamilnadu Teachers Education University, Chennai.

The live telecast was rendered by Tamerica Channel. The meeting was inaugurated on 01.08.2021 at 9am. Prof. M Govindan welcomed the gathering. Dr T Sivasakthi Rajammal explained the theme of the event.

Presidential address was given by Prof V Balakrishnan, Registrar i/c of TNTEU. Inaugural address was given by Honourable Vice Chancellor Prof N Panchanatham.

Keynote address was given by Prof M Soundararajan - Dean of Faculty and Adjudicator address was given by Mr R Rajendran, Founder of Assist world Record and Special address was given by Mr Mahesh Nattanmai, Founder of Tamerica Channel.

Felicitation address was given by Prof. P. Ganeshan, Prof. S. Mani, Associate Professors Dr. K. Rajasekaran, Dr. P. C. Nagasubramani, , Deputy Registrars, Dr. K. Mohan, and Dr. P. Vijayakumar and Representives like Secretaries, Principals from 108 Educational Institutions like Colleges of Education, Arts and Science, Agriculture, Engineering, Polytechnic, Teacher Training and Schools. Dr. A. Mohammed Mohideen and Dr. D. David Stanley of Loyola College participated as the guests of honour.

Vote of thanks was given by Dr. P. Subramanian. Prof. M. Selvam, Honourable Vice Chancellor of Bharathidasan University gave Valedictory address.

Master of Ceremony was done by Dr. T. Premalatha from Bharathiar University, Dr. Arockia Elizabeth Josephine and Dr. K. Mangai of Stella matutina College of Education, Mrs. S. Vinmathi of Ganesar Arts and Science College and Mrs P. Chitra, Ph.D Research Scholar, TNTEU.

The number of speakers including students and teachers in the world record event were 1187. The total number of participants attended the event were 9600. Besides these, more than 14800 participants participated through you tube and Tmerica Channel. This new world event commenced on 01.08.2021 from 9 am and ended on 06.08.2021 by 9am.

This programme was executed by the students' participants in Tamil and English language through Google Meet platform.